Age Verification Popup in your WordPress Website (for free)
This feature is particularly important for those who need to block access to the WordPress website to users who do not have the legal age to see that content ( sale of tobacco or alcohol , sexually explicit , vulgar language , etc. ).
Moreover , ITRO Popup Plugin is completely free, easy to use , fully customizable and lightweight: it is designed for those who have no knowledge of code.
Do you have a site with adult content?
Follow these simple steps and get your age verification WordPress popup!
1. DOWNLOAD ITRO POPUP PLUGIN (FOR FREE)

Go to WordPress.org and download our WordPress Popup Plugin Free!

Then activate the plugin and go to settings -> ITRO Popup Plugin to create your popup.

2. CUSTOMIZE YOUR AWESOME POPUP!

3. ENABLE AGE VALIDATION

With "Enable age validation" option, the popup blocks the navigation (for age validation) until the user declare that is above the local country legal age.

You can customize text, colors and destination url for the buttons.
Done. With these simple steps you can easily add Age Verification Popup to any WordPress Website!
MAIN FEATURES OF ITRO POPUP PLUGIN
TOTALLY FREE
Easy to use
Multilanguage
Responsive
Fully customizable (colors, width and height, time duration, countdown, popup delay, background image
Pretty fade-in and fade-out animations
Fast support
EXAMPLE OF AGE VERIFICATION WORDPRESS POPUP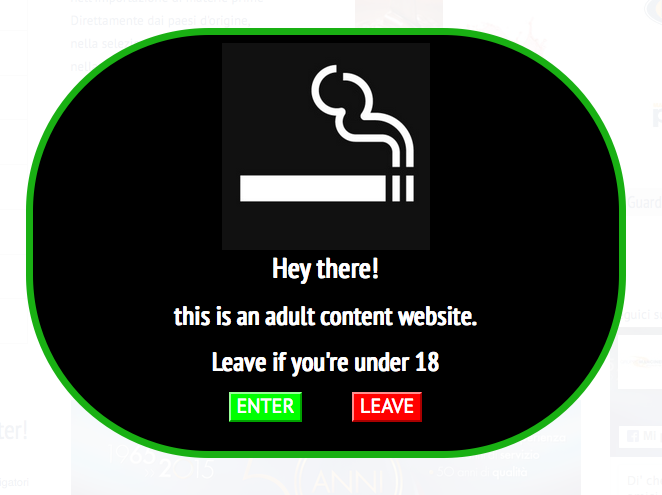 ITRO Popup Plugin is a simple website age checker and verification pop-up  that you can easily add to your website. It's totally free!
You can use it without age validation for a pop up splash entry page, for advertising, cookie policy alert, info bar and much more. Download and enjoy!
VIDEO TUTORIAL: HOW TO CREATE A AGE VERIFICATION WORDPRESS POPUP
Need Help with ITRO Popup Plugin?
Click on the image to enlarge it