Need a Link Clicks Counter in your WordPress Website?
Follow these simple steps and track your website's clicks with a simple shortcode!
Everyday we use a lot of tools for our websites' monitoring, but we never know if page content is ok for conversions. So we decided to develope a brand new feature for our Plugin ITRO WordPress Marketing with the aim of tracking link clicks: more than a click counter, it's a complete clicks analytics with daily count graphs and trends.
You can use it for monitoring user's clicks on a text link, or on a button (i.e. for monitoring the number of downloads), or an image or everything else: it's VERY SIMPLE to use, you just have to create a link and insert the shortcode in your page.
Easy, isn't it? 😉
So: you just have to use a shortcode and the plugin will do all the rest.
How to get your wordpress click counter plugin
Follow these simple steps:
You need ITRO WordPress Marketing Plugin: you can download free trial of ITRO WordPress Marketing or buy the license of ITRO WordPress Marketing.
Install and activate the Plugin.
Into your WordPress Website, go to ITRO WordPress Marketing menu and click on "Click Counter"
Then click on "add new link" (see image below)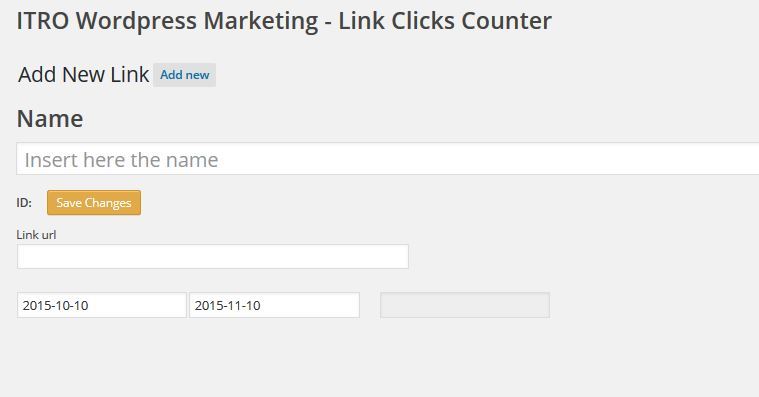 5. Choose a name for your click counter and then insert the url of the link you want to track. Save changes (don't care about the dates below).
6. The system will automatically generate a shortcode: go back to ITRO menu -> click counter to see the list and find your shortcode:

Now you can use the shortcode in your website this way:
[ itrocounter id='14 ']CLICK HERE TO DOWNLOAD![ /itrocounter ]
Easy, isn't it? 🙂
About link click tracking in WordPress…

Go to your click counter and click on the PERIOD you want to track: you'll get both the total of the click just beside the dates, and the daily graph below: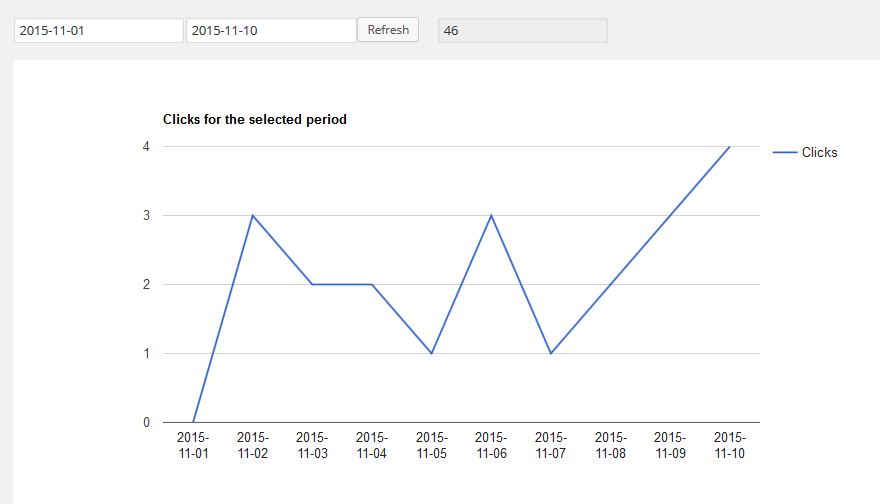 WITH THIS WORDPRESS PLUGIN YOU CAN:
Find out how many people click on each link
Have a total count of clicks on links for periods of time that you choose
Easily monitor the progress of clicks through a graphic automatically generated
Compare the effectiveness of various marketing actions
Easily manage the link clicks counter via shortcode
Learn more about the Plugin